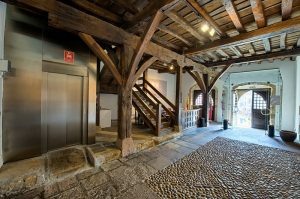 The houses of "el Aguila" and "la Parra" are situated on the main square, just in the middle of the historic centre of Santillana del Mar, next to the town hall and the "Parador" of San Blas.
Inside the historic-artistic ensemble of Santillana del Mar, we find two magnificent examples of civil architecture from XVII and XVI century, respectively. The buildings, property of the Government of Cantabria, were restored at the end of the eighties, and from 1988 to 1991 they hosted many exhibitions dedicated to the Ethnography of Cantabria. Lately, they have hosted several art exhibitions.
Nowadays, visitors can see the exposition "Viejaneros. El pulso de la tradición", which is made possible by for an important part of the reserve funds from the Ethnographic Museum as well as some private donations.
The aim of the exposition is to offer a tour around 30 traditional crafts from rural Cantabria, shown through 230 objects. They are distributed throughout 8 exhibition spaces, and the structure is based around the raw materials: wood, metals, stones, textile materials or mud.
ARQUITECTURE
The house situated in the northern part, near the town hall, is the house of the "Parra" and date from the beginnings of XVI century. It received its name from the great fig that used to cover the main façade. Lately, it was substituted with a structure made of wood and brick. The edification is enclosed in the gothic style, shown by its doors with pointed arc.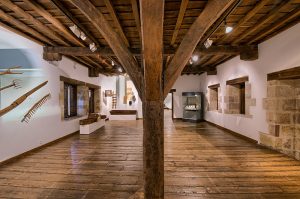 Nearby, in the middle of the XVII century, it was built the house of the "Águila". It received its name from the eagle included on the shield of the main façade, the shield of the Escada-Tagle family.