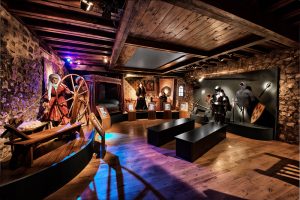 Placed on a hill of the older Buelna's County, one finds the tower of the Admiral Pero Niño, Count of Buelna and Sir of Cigales. The tower was constructed at the end of the 14th century by his brother Alfonso Niño. It went projected to the Gothic style, it is of rectangular plant and it was building as a bucket of 14 m. of height.
In origin the construction was dividing in three plants. The ground floor was used as store and stables. The intermediate one was reserved to housing of the tenants, who was informing his Sir and was administering the County, and the superior level for the vigilance of the tower and the service. In his main face (in the eastern part) and the front South there was a platform covered of wood that one was acceding from both fronts and for the third plant. From the exterior today appreciate the vain where there were inserted the girders and the props of the platform. The windows placed in the main in the second plant, it was used for the defense to the tower.
At the present, the Tower receives a permanent exhibition, called: "Pero Niño: Life and wanderings of a medieval Gentleman".  The book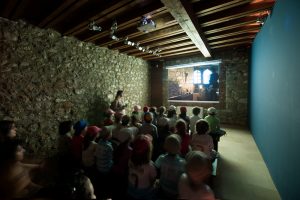 "El Victorial" where it's counted the exploits of the Admiral Pero Niño, which was never always winning and conquered by sea and for land.
The visit begins with the audio-visual that informs the visitor of the rich cultural heritage of the valley from the Prehistory to the epoch of Pero Niño. Later and across  audio-visual l and holograms, his ensign  Gutiérrez Díez de Games described by the chivalrous and court life of this illustrious personage, from his childhood in the Spanish Medieval Court to his death, moving back in the time up to the Low Middle Ages.