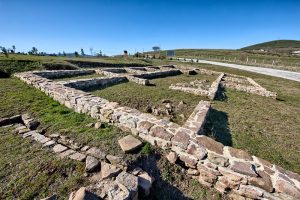 In 1976 Mr. Abel Gomez, neighbor of Camesa's locality, found in surface a fragment of brick with the inscription LEG. This one him belonged dedicated to his nephew Mr. Jose Maria Robles, latinist, which recognizes the inscription as Latin and demonstrates this way as a possible Roman occupation in the place. Four years later the Seminar Sautuola initiates the first local excavation, which extends until 1986 for Michael Angel Garcia Guinea, Director of the Museum of Prehistory and Archaeology of Santander.
The excavations discovery of the archaeological remains of a former Roman occupation between the Ist to the IIIrd century A.D. After his abandon the place returned to be in use this time as necropolis in two different moments. In epoch Visigoths, at the end of the VIth century and beginning of the VIIth, since they demonstrate the numerous tombs of pit, covered by slabs and with ovoid or anthropomorphous form. To medieval epoch, and assigned to the VIIIth century, there are associated the sarcophagi and the tombs of flagstones placed about the foundations of a hermitage of the same century, with an alone ship and an apse of quadrangular plant.
Between the different excavated structures, of Roman epoch a house of the 1st century stands out A.D., endowed with a thermal installation. The presence of a section of causeway Roman, near to this construction, was interpreted for the archeologists as a "mansion" (hostel), that is to say, as an establishment innkeeper who would serve as area of rest and coaching inn. On the other hand, the nonexistence of big stables, kitchens, counters and a direct access of the thermal baths from the exterior, originated the local reinterpretation as villa used as a luxurious country house, or as residence near to the surrounding areas of an urban core.
At present and from 2002, the deposit is being excavated, there having been located the foundations of new constructions that they assign to him as Roman accession. The finding of several terms with the word Juliobriga in the same Valdeolea valley, it has caused the debate on Juliobriga location.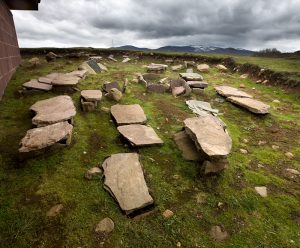 The visit to the archaeological site  is guided and possesses a Center of Interpretation where is explained to us the Cantabrian occupation of the valley and his implication in the Cantabrian Wars, putting as example on the strengthened to Santa Marina, to scanty distance of the archeo-site.
During the visit one will be able to feel as a real archeologist, recognizing with help of the guide the distribution of the Roman villa, his thermal baths and his wall paintings, as well as the necropolis visigoda of the VIth at VIIth century and medieval cementery between the VIIIth and XIIth century. Both sessions on the villa.
His visit can agree with the Casa-Domus Juliobriga in Retortillo and the Romanesque Site Musum.